GRAND PARK HOTEL EX Kisarazu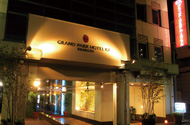 Grand Park Hotel Excel Kisarazu is suitable and convenient for business travelers as all the rooms are equipped with LAN access.
Located strategically nearby various famous golf courses, hot springs, exhibition halls and leisure spots, this hotel is a convenient accommodation for families and guests traveling in groups.
Come feast at the stylish restaurant, Toscana or enjoy a warm dinner in the comfort of your own room through our room-service.
Relax and unwind in our guests rooms.
Rooms
Single room:
Furnished with an ash-colored theme, the room is also decorated with a luscious green plant, serving as the highlight of the room. Fully relax in the warm colors and lighting of the room through the soft indirect lighting system.
Semi-double room:
Furnished with a spacious semi-double size bed and the similar color scheme and style of the single room.
Twin room:
To provide a relaxed ambience, the room is furnished with an ash-colored theme with green highlights, portraying a sense of harmony with nature. Our beds are dressed with soft light duvets and the wall partitions are sound-proof to provide you the environment you need for a comfortable, fulfilling rest and sleep.
Triple Force room:
Suitable for families or small groups. Furnished with an ash-colored theme to create a calm interior. The room also comes with a cozy space to lounge.
Concept-room:
Furnished with a sofa and a queen-size bed. Guests can enjoy DVD movies and music in the comfort of the room.
Vanilla-room (Canopy attached)
Furnished with a canopy bed. An array of minus-ion facilities are also provided to create a healing calming environment through its aroma-therapy features.
Access
4 mins walk from JR Kisarazu Sta East Exit.
45 mins by express bas from JR Tokyo Sta.
35 mins by express bas from Haneda Aiport.
Address:
1-1-40 Asahi Kisarazu city 292-0055 Chiba prefecture
Google Map
Tel: (81) 438-22-4123
Fax: (81) 438-22-4602
Reservation
EX Kisarazu:
(81) 438-22-4123